Early Doors Live
Sitcom Early Doors is to revived as a live stage show in Manchester
The comedy is written by and stars Craig Cash and Phil Mealey, who also direct the live version
Last seen on TV in 2004, a series of dates will be announced in coming weeks
Early Doors, the pub-set sitcom written by and starring Craig Cash and Phil Mealey, is to return as a live stage show in 2018.
British Comedy Guide can exclusively reveal that a series of dates in Manchester will be formally announced shortly by promoters Phil McIntyre Entertainments, with tickets expected to go on sale next month.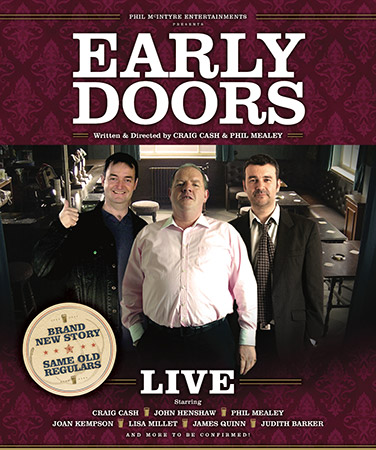 Set in a small Manchester pub, Early Doors launched on BBC Two in 2003. It observes the antics of put upon landlord Ken, his adopted daughter Melanie and the colourful array of regulars who would drink in the pub. The comedy ran for 12 episodes across two series.
Fans of the show have frequently called for the creators to return to the format and now, 14 years after the sitcom was last seen on television, it has been confirmed they will be able to spend more time with the characters.
Early Doors Live will see Cash and Mealey reprising their characters, Joe and Duffy, in an all-new storyline, with a number of the sitcom's other actors also signed up to return for the stage version.
The new play, which has been written and directed by the duo, is to be promoted with the tagline: "Brand new story, same old regulars".
John Henshaw will return as Ken; with Joan Kempson back as lazy cleaner Winnie; Lisa Millett as pub regular Debbie; and James Quinn as corrupt policeman Phil. Further casting is to be confirmed shortly.
Full details on the live shows will be announced shortly. Click the Like button below to receive further information by email as soon as it is revealed.
---
For updates, click the buttons below.
All twelve episodes of Early Doors are in this two disc box set. It's a gentle yet compelling story of life, love, loneliness and blocked urinals.
First released: Monday 26th September 2005
Share this page