At the curtain call for this revival of the 1977 musical, its star, Miranda Hart, breaks into the equine trot that is a trademark of her TV persona. It's a revealing moment since it's a reminder that, for all her strenuous attempts to convey the child-hating nastiness of the orphanage boss, Miss Hannigan, there is something essentially likable about Hart. She works hard and sings and dances capably, but it's difficult to accept her as an accomplice, as the role demands, to abduction and possible murder.
The musical itself is beginning to show its age, too. Based on a once-famous cartoon strip, it emerged 40 years ago as a refreshing antidote to the knowingness of the standard Broadway musical. Through the combined talents of Charles Strouse (music), Martin Charnin (lyrics) and Thomas Meehan (book), it tells the story of little orphan Annie, who dreams of a reunion with her lost parents. Instead, she finds herself welcomed into the home, initially as a temporary guest, of the plutocratic Daddy Warbucks, who persuades the new president, Franklin D Roosevelt, to devote precious government resources to discovering Annie's origins.
Today, you feel a billionaire capitalist such as Warbucks would be running the country rather than deferring to the president. But this is 1933 and, in a scene of irksome cuteness, Roosevelt seizes on Annie's innate cheerfulness to usher in the federal emergency relief programme that became known as the New Deal. The show is on much surer ground when it evokes the benign idiocy of a 1930s radio programme, with its masked announcers and costumed ventriloquists. In songs such as Hooverville and Hard Knock Life, Strouse and Charnin also capture something of the deprivations of the urban poor and victimised orphans.
But Hart is this revival's selling point and I feel decidedly ambivalent about her performance. She is suitably authoritarian as the whistle-blowing, gin-swilling Miss Hannigan; she sadistically pummels an orphan's teddy bear and highlights the character's sexual repression whenever a man is rash enough to enter her domain. She can also carry a song, as she shows in her musical diatribe against Little Girls. But, while I admired Hart's professionalism, I never quite felt, as I did with Sheila Hancock's exuberant performance in the original West End production, that this Miss Hannigan possessed the instinctive villainy of Mrs Squeers from Dickens's Dotheboys Hall. Hart, I suspect, has too much heart.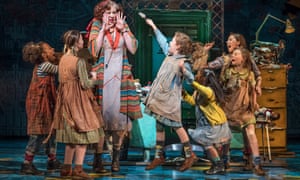 Although Nikolai Foster's production could pay more attention to vocal projection, there is an ingenious jigsaw-puzzle design by Colin Richmond and some good performances. Ruby Stokes – one of three young actors playing Annie – has just the right air of iron-willed determination, and Alex Bourne as Daddy Warbucks hints strongly at the emotional solitude of the inordinately wealthy. Holly Dale Spencer as his loyal sidekick and Djalenga Scott as a conspiratorial floozie provide colourful support. It remains a mildly pleasurable family musical but, given the current climate, its faith in the beneficence of the rich, a progressive American president and the good intentions of governmental agencies now seem recklessly optimistic.