Ripley: 'I'm delving into the psyches of politicians. And making Theresa May twerk all over the stage'
Some of the most biting political satire at this year's Edinburgh festival won't come from ranting, right-on standups in sweaty basement venues. It will come from a 6ft 2in drag queen who occasionally bursts into Steps numbers.
Edinburgh-born, London-based Ripley makes her festival debut with one-woman sketch show Like a Sturgeon. Combining drag, mime, camp pop and political parodies in a bid to make sense of the state we're in, it has already proved an award-winning hit on the gay circuit.
"It's an endurance lip-sync show where I play different leading ladies from politics, delving into their psyches to uncover their fears and fantasies, hopes and hypocrisies," Ripley explains. "It's also an excuse to make Theresa May twerk all over the stage."
Beneath the greasepaint and glamour, Ripley is 30-year-old Calum Ross, whose day job is at a bereavement support charity. Named after Sigourney Weaver's character in the Alien films, Ripley started performing the show at London's Royal Vauxhall Tavern, developing it from standalone sketches into a one-hour extravaganza. Even Nicola Roberts from Girls Aloud is a fan.
Previous gigs have seen Ripley channelling Angela Merkel, Mhairi Black and Ruth Davidson ("I just get the same wig in different colours"), but here she's concentrating on May, Melania Trump ("It's tough being married to the world's most powerful man, especially when he's illiterate with a tiny penis and a urine fetish") and, of course, her idol, Nicola Sturgeon: "Mother of dragons, the Madonna of Scotland and founding member of the Krankies."
Donald Trump, Ivanka Trump and DUP leader Arlene Foster also make cameos. Each character is recorded by Ripley herself, featuring her own vocal impressions and projected visuals. Expect vogueing, rapping, references to a well-hung parliament and rallying cries for Scottish independence. "I'm excited," she says. "It's the first time I've taken Like A Sturgeon back home."
Typical line: "Set Scotland free, why don't you May? Geez us a second Indy Ref, why won't ye May? Coz you dinnae really love Scotland, ye just keep uz hangin' oan."
Ideal audience member: "Nicola Sturgeon herself. I'm going to be five minutes up the road, so it'd be rude of her not to come. My typical crowd are politically astute and hate Tories."
Comedic influences: "Smack the Pony. I was obsessed with their musical parodies."
Best Edinburgh moment: "My interest in drag started when I saw the Lady Boys of Bangkok at the Fringe as a child. It ignited a little spark. I wanted to be a queen too."
Top festival tip: "Go to Portobello. People are often surprised there's a beach in Edinburgh, but it's got incredible views and amazing cafes, and you can breathe in some lovely sea air." MH
Like a Sturgeon runs 20-26 August, 8.30pm at Belly Dancer (part of Underbelly)
Ahir Shah: 'Trump's not in the show. Unless there's nuclear war in a fortnight and I feel obliged to mention it'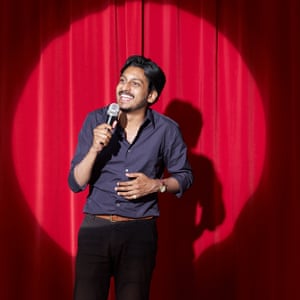 Last year's Edinburgh show, which put Ahir Shah on the standup map, was highly political. This year's is more personal. "The narrative follows a recent trip to see my family in Gujarat after my uncle's death. I stayed with my newly widowed aunt, who was also caring for my grandmother, who has severe dementia. So naturally I thought: 'This is really funny.'"
Shah grew up in Wembley, "along with basically every other British Indian person in the UK", and now lives across the river in Brixton. He was all of 15 when he did his first gig: "Too young. I didn't have anything to say. To some extent it's debatable whether I do now." It was while studying political philosophy at Cambridge that Shah realised: "I could probably get more people to listen to my ranting if I threw in a few jokes".
Now 27 – "a third of average life expectancy, so this is the end of act one" – he was an Edinburgh comedy award nominee last year for his Brexit and Trump-themed show Control. Full of righteous fury, it was fluent, astute and a study in controlled dismay at the world.
Now he returns with Duffer, an equally eloquent hour of standup about "life and what comes after, death and what comes before, and Bohemian Rhapsody. Trump doesn't appear this time. Unless there's a nuclear war in the next fortnight and I feel obliged to mention it."
Why the title? "It was my grandmother's nickname for me as a child, when I was forever mucking about. It derives from dufur in Gujarati, meaning a fool or clown. English has lots of loan words from various Indian languages. Like 'loot' because the British did a lot of stealing or 'pyjamas' because they got sleepy from all the stealing."
His grandmother's eventual plight echoes recent events. "She lived with us until I was five, then got deported by the Conservative government of the mid-90s. Her experience had parallels with the Windrush scandal. Everyone was shocked by Windrush but I was like, yes of course, that's what happens. And it's not good."
Typical line: "Ah, Brexit. When we voiced our collective displeasure at Polish people by throwing our wallets into a burning bin."
Ideal audience member: "My mother, enjoying it."
Comedic influences: "I used to watch Jackie Mason with my dad, then got into Richard Pryor and Bill Hicks in my teens."
Best Edinburgh moment: "When the award nominations were announced last year, I was mid-set but my agent snuck into the room and gave me a thumbs up. I excitedly told the audience the good news, at which point my agent said: 'Legally, you shouldn't have told anyone that for another six minutes.' Which was awkward."
Top tip for festival-goers: "Grab some soup at Red Box noodle bar." MH
Duffer runs 2-26 Aug, 2.15pm at Laughing Horse @ Cabaret Voltaire
Rose Matafeo: 'I have enough confidence to do standup – but not enough to wear a hat'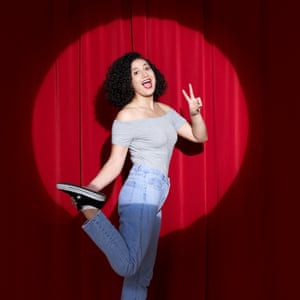 "It's nothing revolutionary, I just do really stupid wanking jokes."
This is the typically self-deprecatory way in which Rose Matafeo, a charming standup from New Zealand, describes Horndog, her show about female desire.
Matafeo – she is the horndog in question – offers audiences a perspective that feels under-represented in an industry still dominated by men. On hearing her material on masturbation, a male comic told her it was interesting to hear the subject being addressed by a woman – as though there was something intrinsically male about masturbation.
Matafeo hopes that, like female comedians talking about periods, it will soon feel normal that they are discussing other intimate topics in the way that male comedians might. As she puts it: "You've got to keep up with the big boys, yeah?"
As well as sexual desire, Horndog is a show about all-consuming passion. "I wanted to write a show about the excitement of being so into things," Matafeo says. "It's a celebration of being into stuff, in an unironic way. I'm a proper nerd."
She always trials her shows in Melbourne, and then on to New Zealand, where the material undergoes something of a "boot camp" treatment before arriving in Edinburgh, at which point it will evolve daily, partly in order to stave off boredom on her part. When being critical of her comedy, she likes to imagine watching it herself, and thinks the best test of the material is to ask: "Would I enjoy my own show?"
And, unlike some comedians – "who get pumped up and see every show as an opportunity to succeed" – Matafeo finds herself racked with doubt in the hours before taking to the stage. "I think my brain's wired to genuinely see every performance as an opportunity to fail or fuck something up," she says. "I think I need to become more of a cocky arsehole. I'm just not that kind of person."
Typical line: "I'm an introverted extrovert in the sense that I have enough confidence to do standup comedy but don't have the confidence to wear a hat."
Best Edinburgh moment: "I don't have any wild nights out to report. Me and [comedian] Ed Gamble are really into escape rooms. I went to an Edinburgh-themed one with him and Adam Hess. And then afterwards we went and had lunch."
If you weren't a performer… "Maybe a projectionist. As a teenager my friend got a job as a projectionist. I was so jealous."
When did you realise you wanted to do comedy? "The time I did a gig when I was 16, at the Croatian Club in Auckland, to about five older Croatian men. I was like: 'If I can do this, I suppose I can do comedy.'"
Top festival tip: "Paul Williams: Santa Fe. He is an insanely creative, talented person." RJ
Rose Matafeo: Horndog runs 1-13 August and 15-26 August, 6.20pm at at Pleasance Courtyard
Rob Carter: 'I take a separate phone for my character, Christopher. He once had a 2am chat with someone in the bath'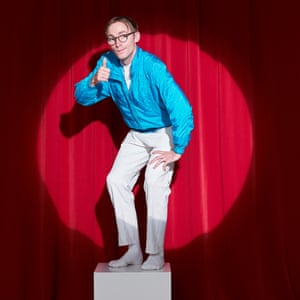 Rob Carter, a former finalist in the BBC's new comedy award, has a valid claim to having the funniest show title on this year's fringe; quite an achievement, given that there are more than 1,000 comedy shows vying for attention. In character as Christopher Bliss, Shropshire's worst novelist, Carter presents a play: I Spy With My Little Eye Something Beginning With Why Have You Been Sleeping With My Wife.
If this article were a profile of Christopher Bliss, how would the deluded author like to be described? "Christopher has quite a narrow field of vision," Carter says, "so he wouldn't be aware of this article. He would love to be written about in his local paper – the Voice of the Village – as a successful novelist. That's about as far as his imagination will take him. But he's very content. He's quite detached from the real world."
Bliss's name is derived from the ignorance in which the author bathes. And, in Edinburgh, which for a month becomes a city obsessed with reviews, a blissful ignorance might be a useful quality to have. Carter says he doesn't really read reviews, and resists the impulse to change his show in a knee-jerk reaction to criticism. He realises, however, that there are limits to this philosophy. "There comes a point where if every single person is telling you that what you're doing is offensive, for example, you should listen to it. There's this saying: 'If five people tell you it's a horse, you'd better saddle up and ride it.'" The important thing, he says, is that you find your own material funny: "I think you can only really be happy in comedy if you're writing and performing what you're excited about."
Typical line: From a Christopher Bliss war novel: 'There were dead bodies all around him. Heads without bodies, bodies without heads, and loads of necks.'"
Favourite Edinburgh moment: "I always bring a separate mobile phone up for Christopher Bliss. At 2am, sat in the bath, someone rang up and we had a phone conversation for about an hour and a half. It was just the most immersive character experience I've ever had."
If you weren't a performer: "I'd probably be a weird film-maker. I love the idea of making something that hasn't been made before."
Edinburgh recommendations: "Róisín and Chiara: Back to Back. Unique, energetic, hilarious."
When did you realise you wanted to do comedy? "It was my first play and my drama teacher took a punt on me. I was just standing on a stage, having fun. And that's basically how I've seen it ever since." RJ
I Spy With My Little Eye… runs 1-24 August and 26 August, 7pm at Pleasance Dome (10 Dome)