Dave Hogan/Hulton Archive/Getty Images
When fashion fanatics and crime-story junkies collide…
Fans have been waiting on pins and needles for the premiere of FX's The Assassination of Gianni Versace: American Crime Story. Beyond the fascinating story that seems to make murder mysteries so popular these days, this series will surely be a fashion feast for the eyes. Although the Versace family didn't sanction Ryan Murphy's production, we can assume from trailers and photos that stars Penélope Cruz (as Donatella Versace), Edgar Ramirez (as Gianni Versace) and Ricky Martin (as Gianni's partner Antonio D'Amico) will be outfitted in similar, if not eye-catching, garb. 
Even though the costumes will probably include vintage or vintage Versace-inspired designs, there's nothing that can replicate the iconic moments that contributed to Gianni's talent and fame. Case in point: Elizabeth Hurley's stardom owes many thanks to the ahead-of-its-time, safety-pin dress she wore to then-boyfriend Hugh Grant's movie premiere. At the time, her significant other was much more famous than she was, but the controversial Versace creation helped catapult the actress into the limelight. 
Even if you opt out of the of watching the series, take this moment to look back on the Gianni Versace-led designs that will forever go down in history.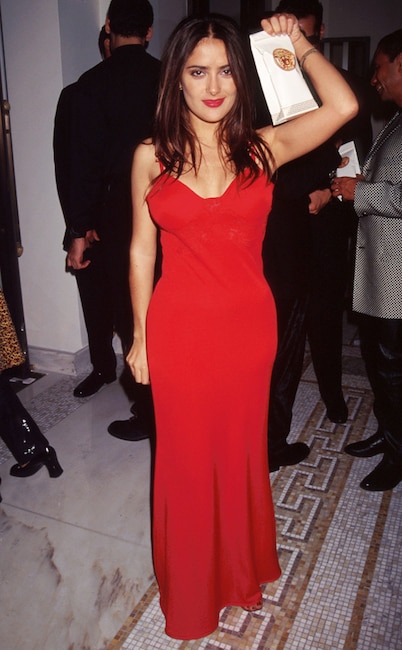 Evan Agostini/Liaison
Salma Hayek, 1996

Salma was red-hot in a maxi dress at the grand opening of a Versace boutique in New York City.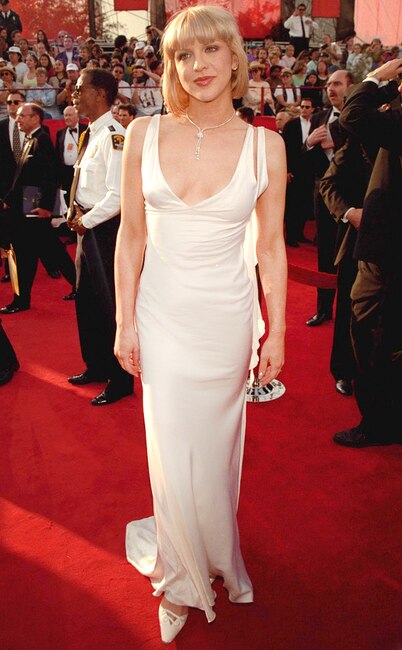 Frank Trapper/Corbis via Getty Images
Courtney Love, 1997

What a style transformation! The singer still lives on many Best Dressed lists for her turn in bridal white at the Oscars.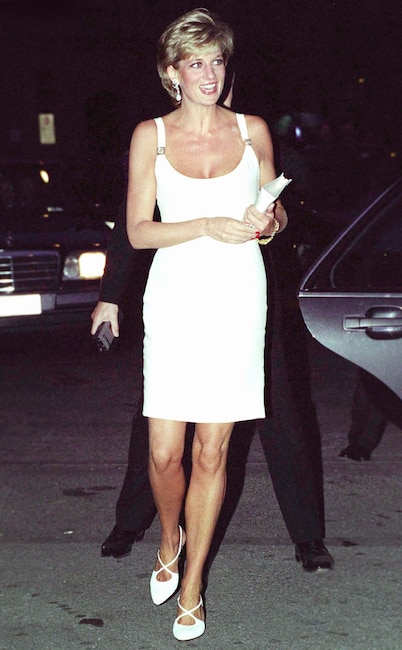 Tim Graham/Getty Images
Princess Diana, 1995

Diana and the fashion designer were close friends—she even attended his funeral. The princess was often spotted in the brand, including the time when she wore a white mini to an Italian charity concert benefiting Bosnian children.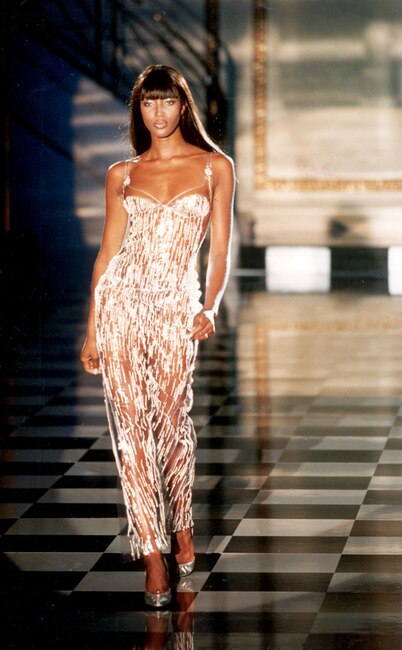 Neville Marriner/Daily Mail/REX/Shutterstock
Naomi Campbell, 1995

The iconic model strutted down the Versace runway in an intricate, sheer ensemble we can definitely imagine on a starlet today.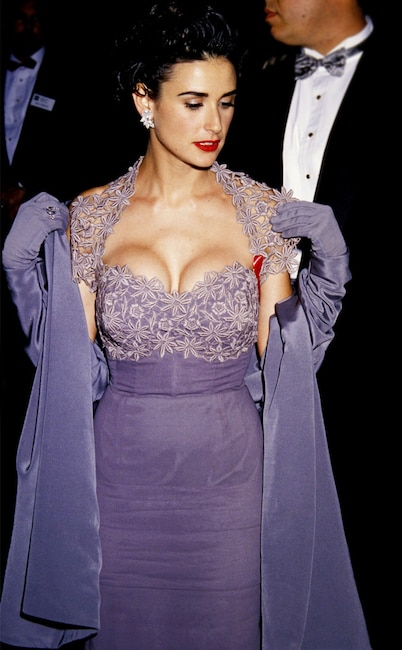 Ron Galella/WireImage
Demi Moore, 1992

From the long gloves, to the floral bodice, to the lilac shrug, everything about this vintage Versace gown had the actress radiating at the Oscars.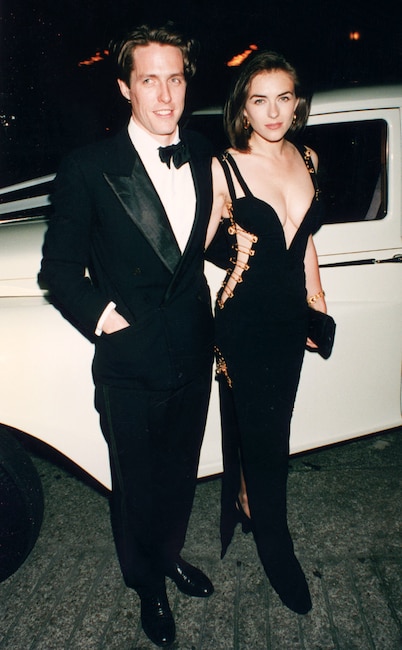 Dave Hogan/Hulton Archive/Getty Images
Elizabeth Hurley, 1994

The safety-pin black Versace dress Elizabeth wore to then-boyfriend Hugh Grant's premiere of Four Weddings and a Funeral became so notable, it now has its own Wikipedia page. The garment was considered so risque at the time that it became known as "THAT Dress" and even helped Hurley's star shine brighter.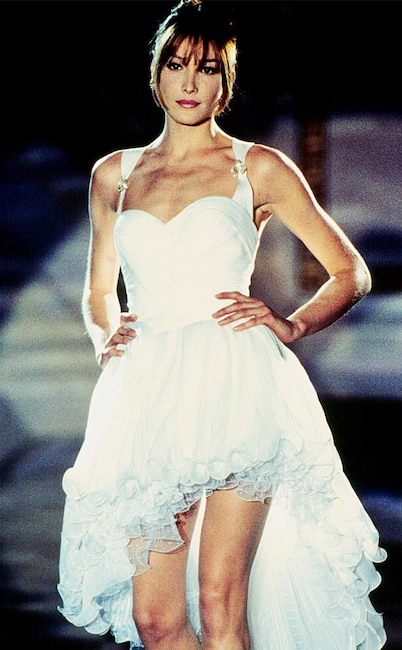 Victor VIRGILE/Gamma-Rapho via Getty Images
Carla Bruni, 1995

The veteran model walked down the Versace runway at Paris Couture Week in a white frock with an asymmetrical hemline.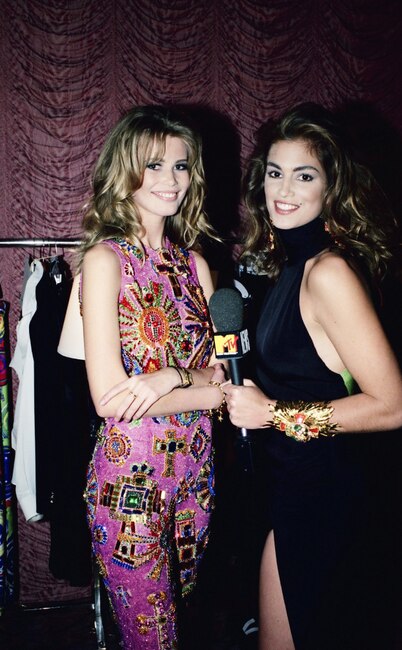 George Rose/Getty Images
Cindy Crawford & Claudia Schiffer, 1991

Cindy interviewed Claudia, who was wearing head-to-toe Versace, behind the scenes of a fashion show. Can you just imagine what the two iconic models were discussing off-camera?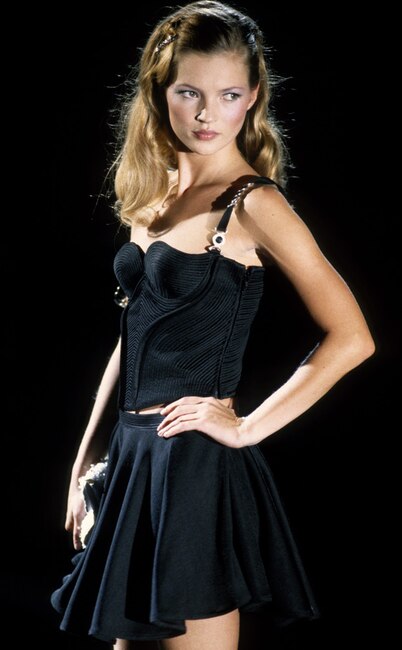 PL Gould/IMAGES/Getty Images
Kate Moss, 1990

A 16-year-old Kate walked down the Versace catwalk in Milan like she knew she would someday own the fashion world. 
Which iconic look do you like best?
The Assassination of Gianni Versace: American Crime Story premieres Wednesday, Jan. 17 at 10 p.m. on FX.